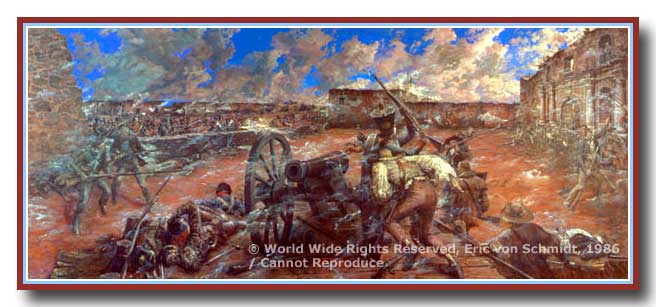 "STORMING OF THE ALAMO"
By Eric von Schmidt
How To Order The Print
The print measures 41.5" X 26.5" with the lyrics of the song, "The Alamo", by Eric von Schmidt printed beautifully below the picture. These prints are limited editions, signed and numbered and may only be purchased through vonsworks.com. These are the last of the prints -- no more will exist once these are gone, so you should order yours today.
You must choose from one or the other below due to differences in pricing for shipping and handling (S&H); either U.S. or international. Please allow 4-6 weeks for delivery. The prints are delivered rolled.
Return print within 15 days after receiving it for full refund minus shipping and handling.
For U.S. Orders, unframed print:
For international orders, unframed print:
Or send check or money order (international orders require cashiers check only) in U.S. dollars to:
Bob Reece, P.O. Box 1072, Firestone, CO 80520
Thanks for your order,
Eric & Bob
The Gallery • Painting Lewis & Clark • Vonsworks Bookstore • The Alamo • Custer • Osceola • Harold von Schmidt • Links